Particularly with nude, lingerie or boudoir shoots, conventional wisdom says there may be a preference for the gender of the photographer. It seems logical that a woman may feel more comfortable having a woman shoot if she is going to be partially dress, or entirely undressed for the images. This would make her more comfortable, at least that is the thought. We ran a poll on the topic, which got started because we noticed a lot of inquiries for a female photographer, but typically they came from men. While there would seem to be a stereotypical logic in that as well, we just had to look deeper to see what was the truth.
We did indeed find that over 50 percent of men preferred a female photographer if they were going to pose nude. The surprise, over 48 percent of women prefer a male photographer. So men and women are roughly the same in preferring an opposite gender photographer when posing nude.
Men and women are not the same though since Men were more likely to prefer a same gender photographer, at 19 percent, where as women were only 5 percent in their preference for a same gender photographer. Predictably gender became less important with clothes on with woman at a 27 percent preference for a male photographer, and men at an 19 percent preference for a female photographer.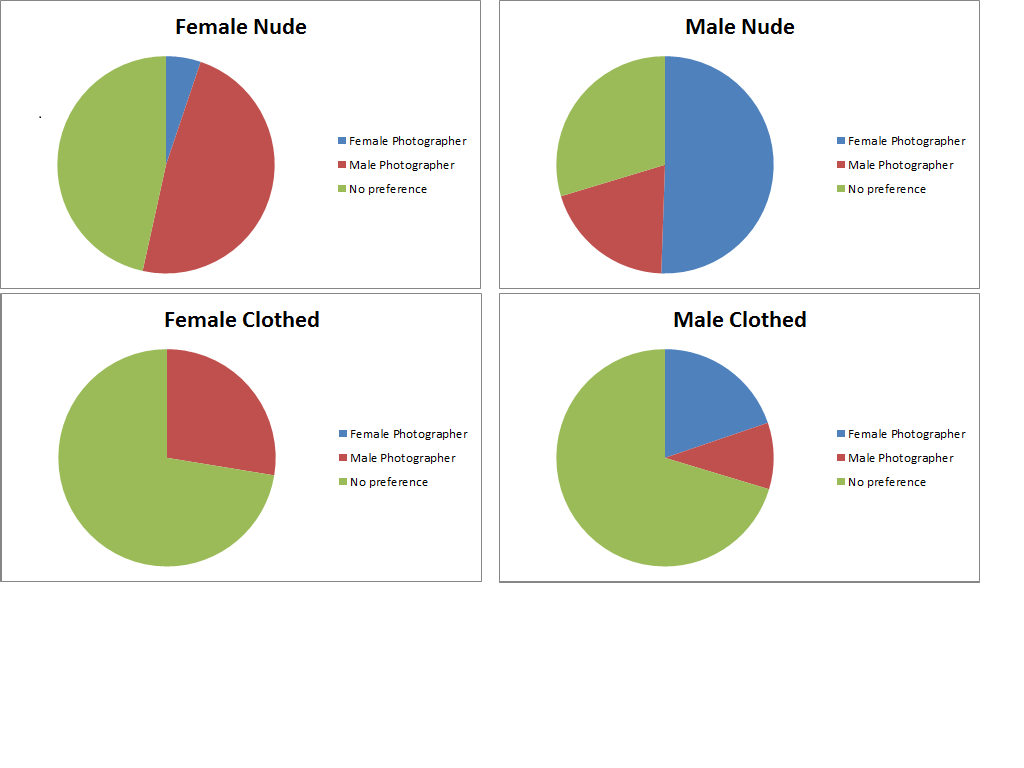 5 percent of the men did state concerns about homosexuality as the reason for preferring a female photographer. Some felt that a women would be able to choose better poses for a man. Of those that chose a male photographer some said that they were move comfortable.
Some of the women said that they were uncomfortable with a man seeing their body, and therefore preferred a female photographer. Many of the women felt male photographers would be able to photograph women better. Some did comment on finding a male photographer more attractive.
So were you surprised?