Sign up for
membership
to see all of the images
There have been many things unexpected in shooting this series. One of these was a paradox in the mood on set and what was portrayed in the image. Despite the dark mood of the final image, there was a fair amount of giggling during the shoot. I am actually on the bed in this image and had someone else pulling the trigger on the camera. When I would look up to see what we were getting, the model would start laughing.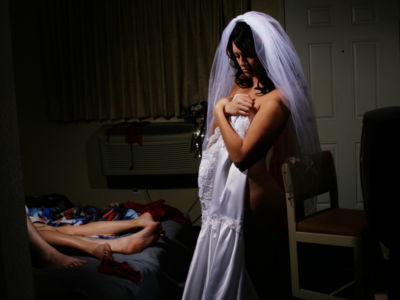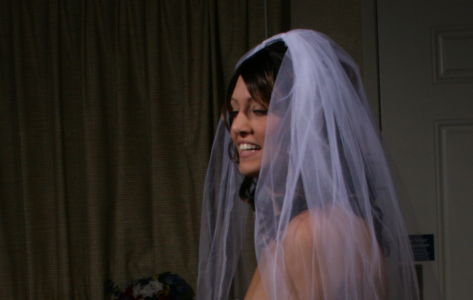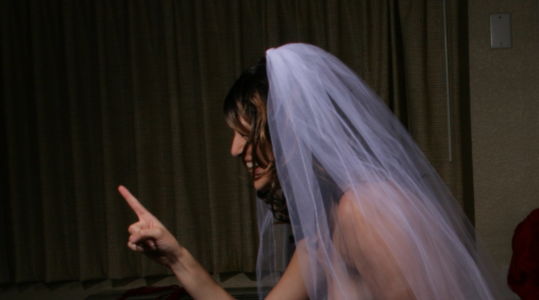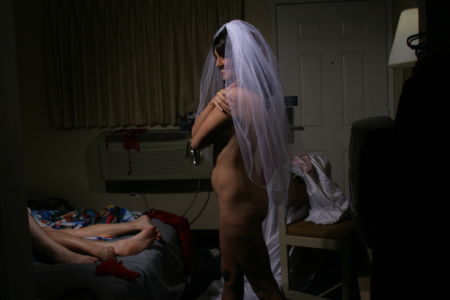 Initially my thought was not to have anyone do their own story. I thought that it could be triggering, possibly causing overwhelming emotions. That was not necessarily the case. This model was a rape survivor, and chose to do this image. She said that doing it was like taking what had happened to her and writing over it, making something positive out of it.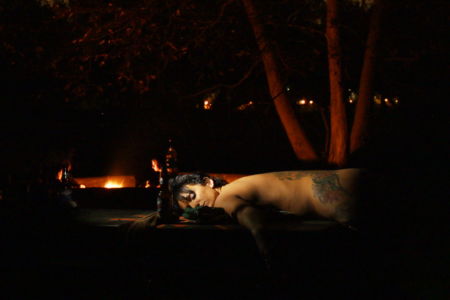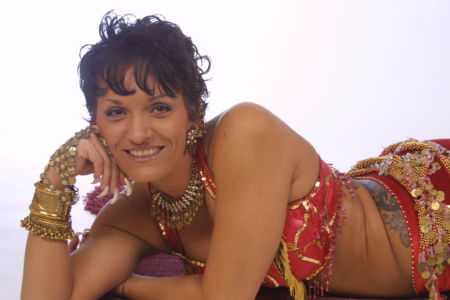 In many cases it was surprising how much small changes in the photo could change the mood. To start with this photo was difficult to cast this image. Even models who regularly did nude and even adult web work, balked at the idea of playing this character. Megan did a wonderful job with the character. You can again see the paradox of the mood.  Also in the background is James, who helped with many of the images in the series, not so intimidating as he was in the final images.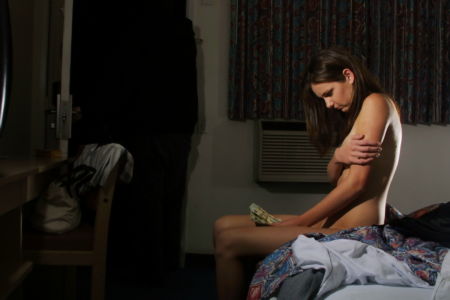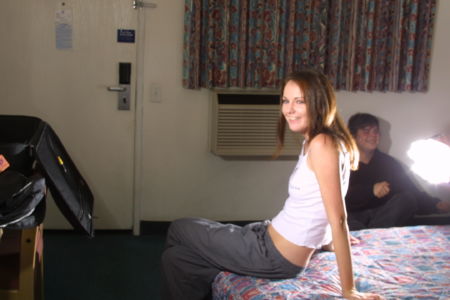 Also seen in some of the images is how much a slight change in pose can change the mood of the image. In this image
 it looks more like counting the money than regret. 


Megan was also brave enough to do the street shots. We would find low traffic spots, but it seemed there would be nobody around until
she took her clothes off, then someone would interrupt. I don't think that anyone got a good look, but we would have to relocate and set
lighting and exposure all over again. The reason for the transparency in the second image is because she dove for cover in the middle of
the exposure due to a car.


Sometimes those assisting are more nervous than the model. In this image, I was testing lighting, but saw another issue as well. When I
looked at the preview image i saw that the person playing the "peeping Tom" was looking directly at me. When I went outside to explain 
that he was supposed to be looking at her, he replied "I didn't know if I was supposed to". I had to explain to him that looking at her 
was the whole point of the image, that she was aware of that, and it was alright. The other image was shot in a park, the playground 
equipment was an essential part of of the image. The plan was to avoid public contact. I had surveyed two parks that would provide an
obscured angle later in the evening. This would give us a primary, and a backup in case something went wrong. The night of the shoot, 
we got to the first location, and all the lights were on, and a soccer game was in progress. Going to the backup location, there were 
people all over the park despite it being 10:00 at night. We ended up at a third location that had not been planned. It was mostly empty
except for a couple at a table. When we talked to them, they had no objection to our project, so we were able to shoot. The catch is that 
the night exposures are 30 seconds long. The model is lit with several flash bursts, then needs to sit still until the shutter closes. That
seems like a long time nude. She put her dress on after each exposure. We were only able to get a few frames before the flashes drew too much attention and we could hear the voices of 
people getting curious enough to start walking our direction. 


Directing can sometimes be difficult. The story behind the image was given to me by a model from out of state. In producing it,
I did not feel comfortable putting a couple strangers in bed, so I was specifically looking for a couple. As usually I explained the 
story and the image to them ahead of time. I do that so that the models know what is expected, and to avoid any awkwardness during the 
shoot. It doesn't always work though. I think Ryan was a bit nervous and asked me what he should do. This starts me thinking that I had 
not explained it well enough. I had some difficulty being blunt about this, when Carly chimed in "Get on top of me silly". I guess I would 
not be the best adult film director.  

[